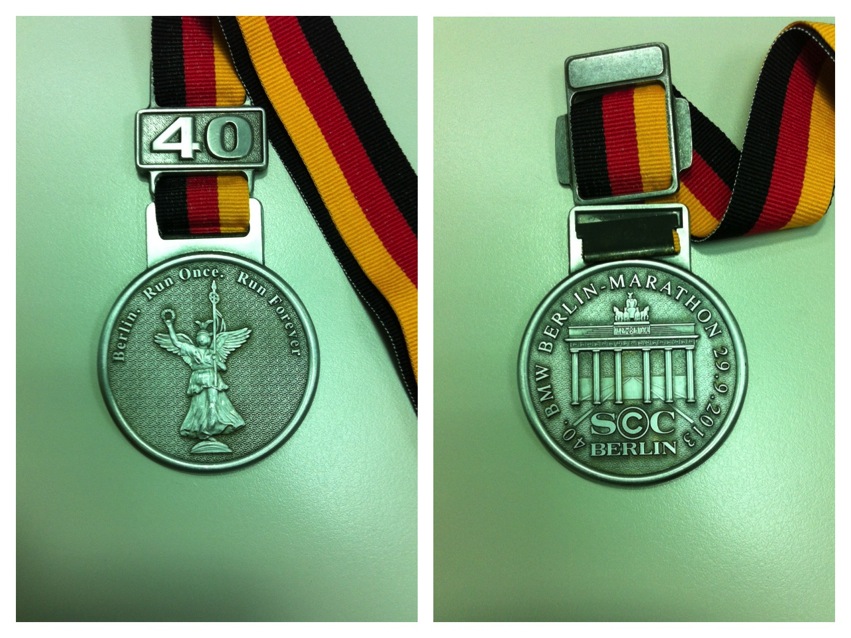 大會網站成績 :
Runkeeper URL : http://runkeeper.com/user/rimmon/activity/250155402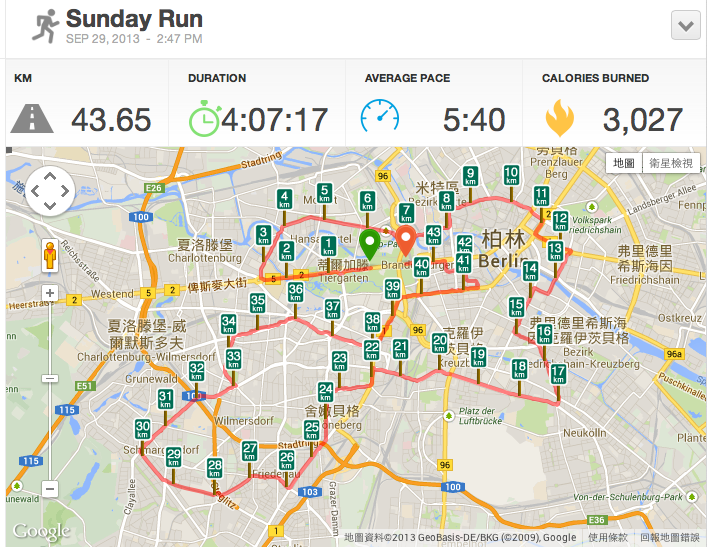 1 Km 5:20 0
2 Km 5:33 -3
3 Km 5:26 0
4 Km 5:17 4
5 Km 5:08 -4
6 Km 5:16 0
7 Km 5:16 -2
8 Km 5:02 3
9 Km 5:10 4
10 Km 5:31 2
11 Km 5:27 -5
12 Km 5:11 2
13 Km 5:08 -4
14 Km 5:02 -1
15 Km 5:16 2
16 Km 5:31 2
17 Km 5:22 2
18 Km 5:24 -1
19 Km 5:35 0
20 Km 5:24 -1
21 Km 5:33 -2
22 Km 5:12 2
23 Km 5:03 5
24 Km 5:27 -2
25 Km 5:27 3
26 Km 5:56 4
27 Km 5:23 -1
28 Km 5:45 -1
29 Km 7:05 6
30 Km 6:54 -3
31 Km 7:25 -5
32 Km 6:29 4
33 Km 5:33 -3
34 Km 5:57 0
35 Km 5:34 -7
36 Km 5:46 2
37 Km 5:48 -2
38 Km 5:55 -2
39 Km 5:50 -1
40 Km 6:04 0
41 Km 5:54 8
42 Km 5:58 0
43 Km 6:43 -8
44 Km 6:33 0
—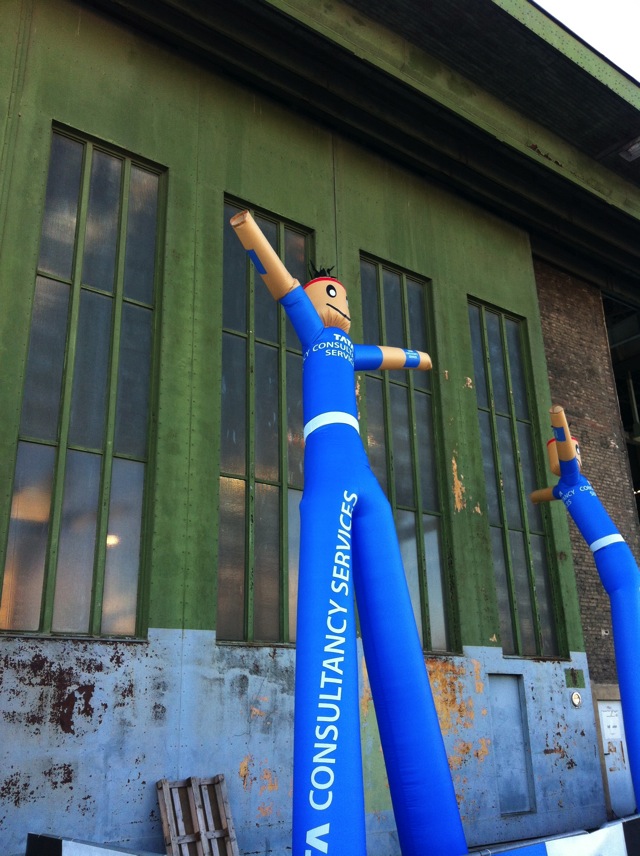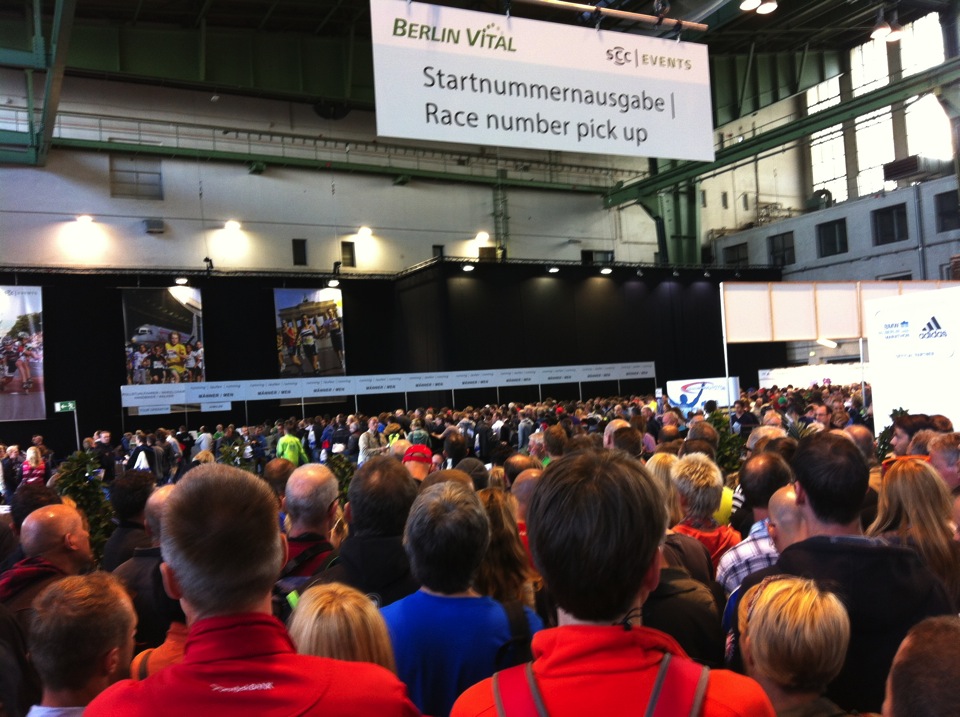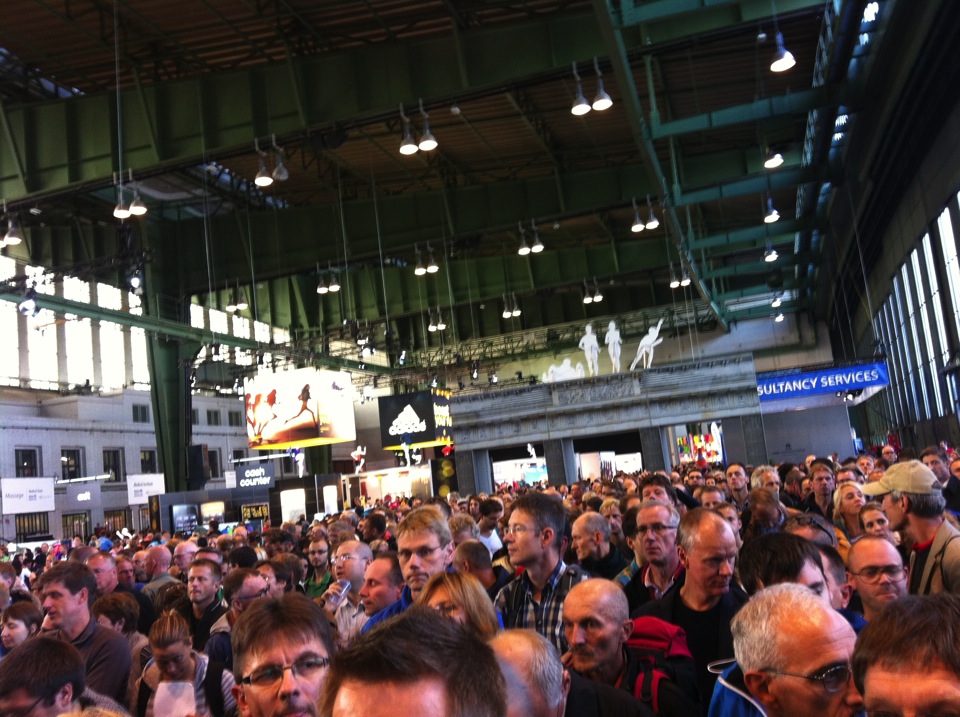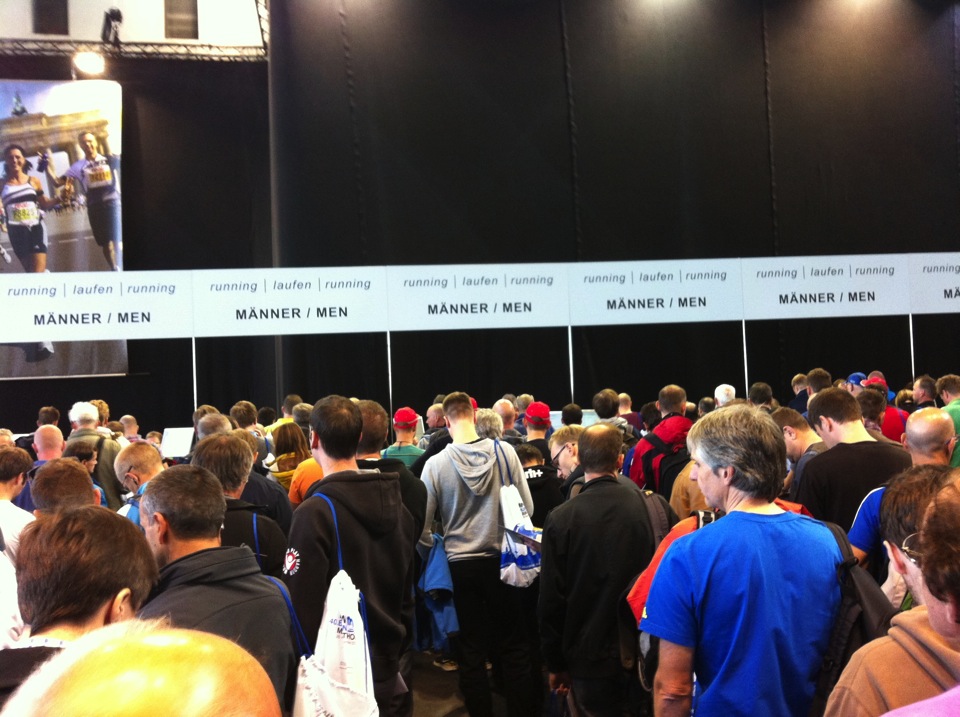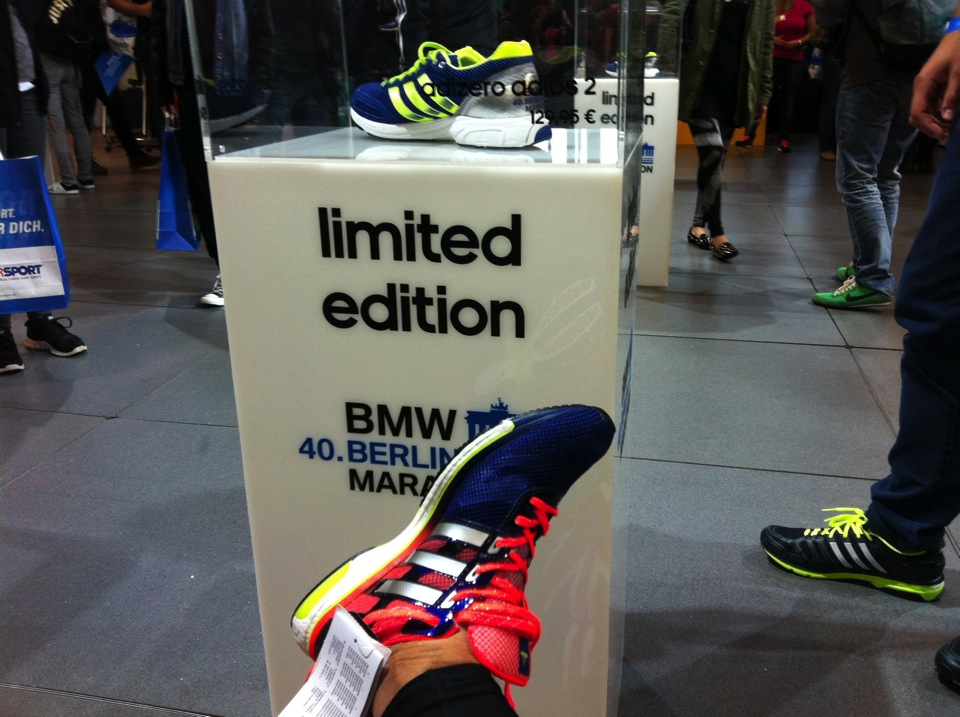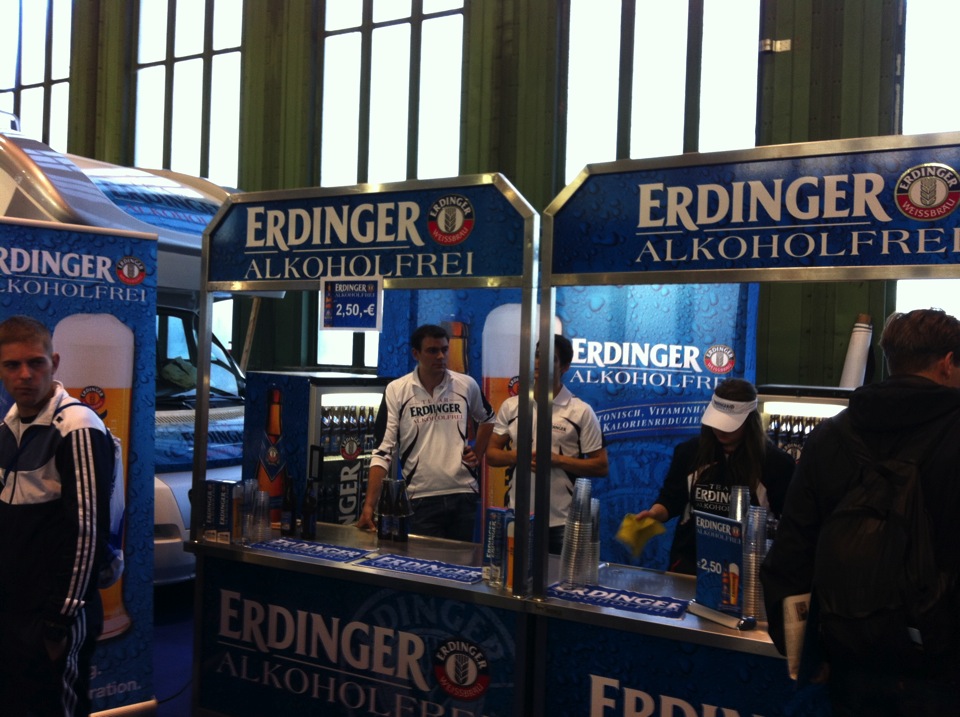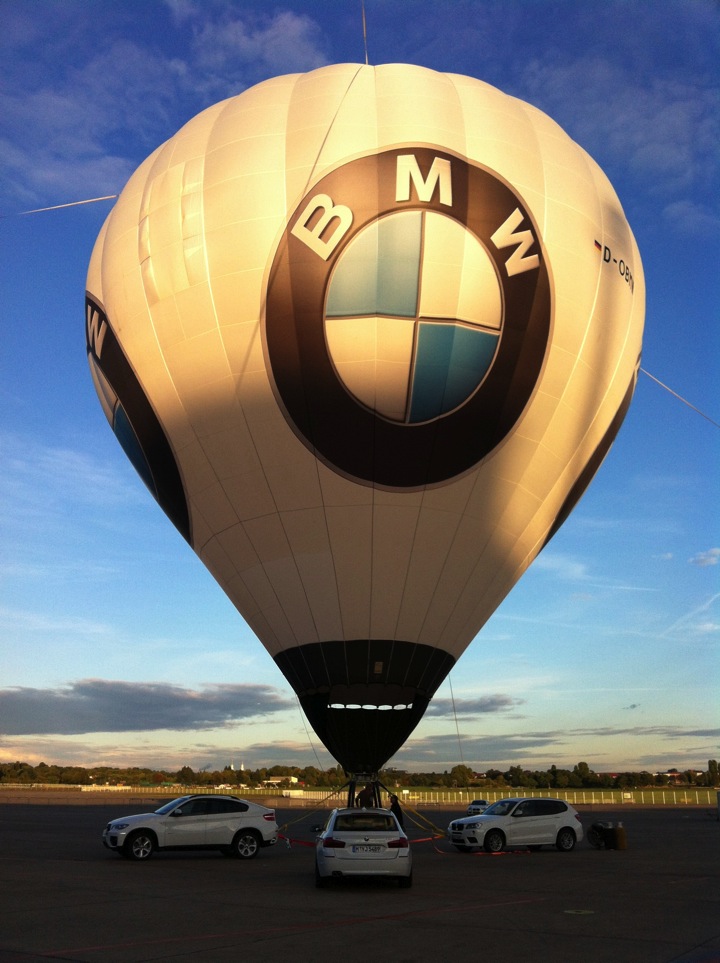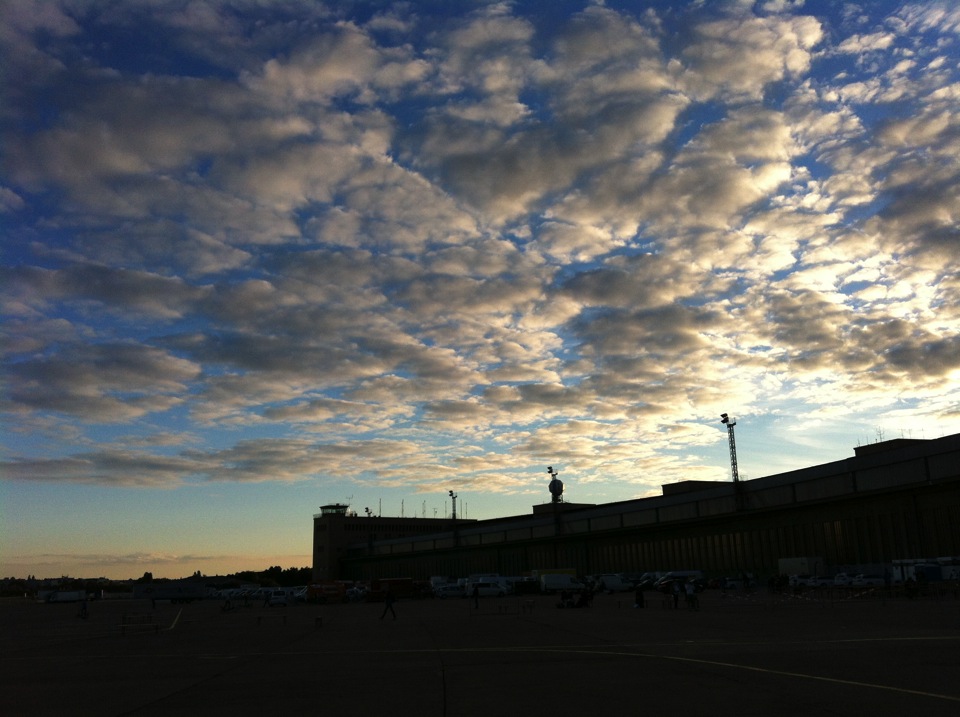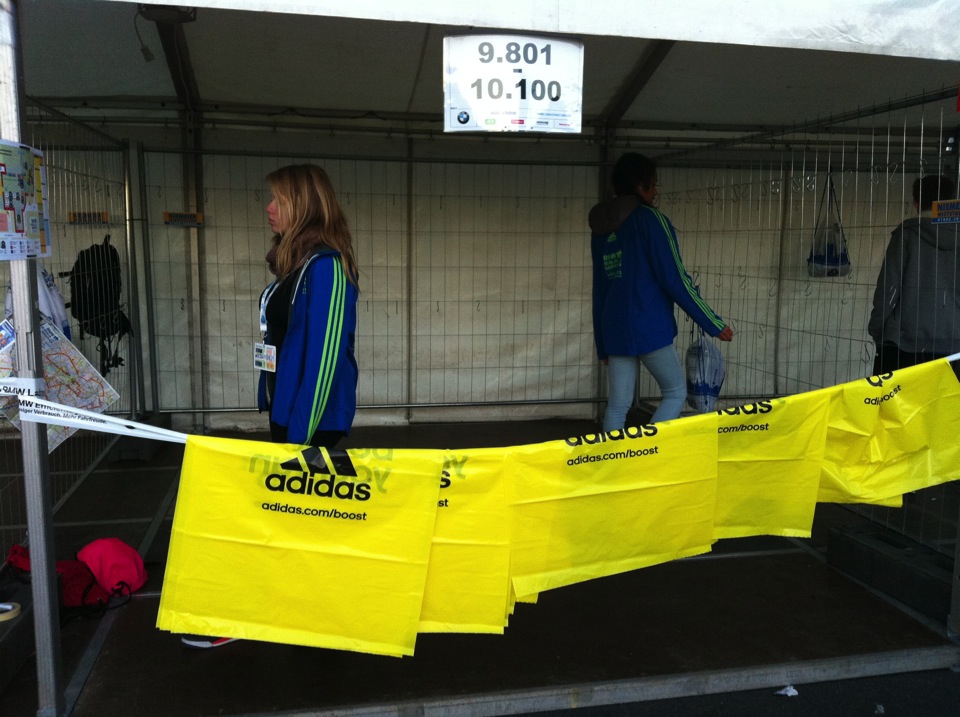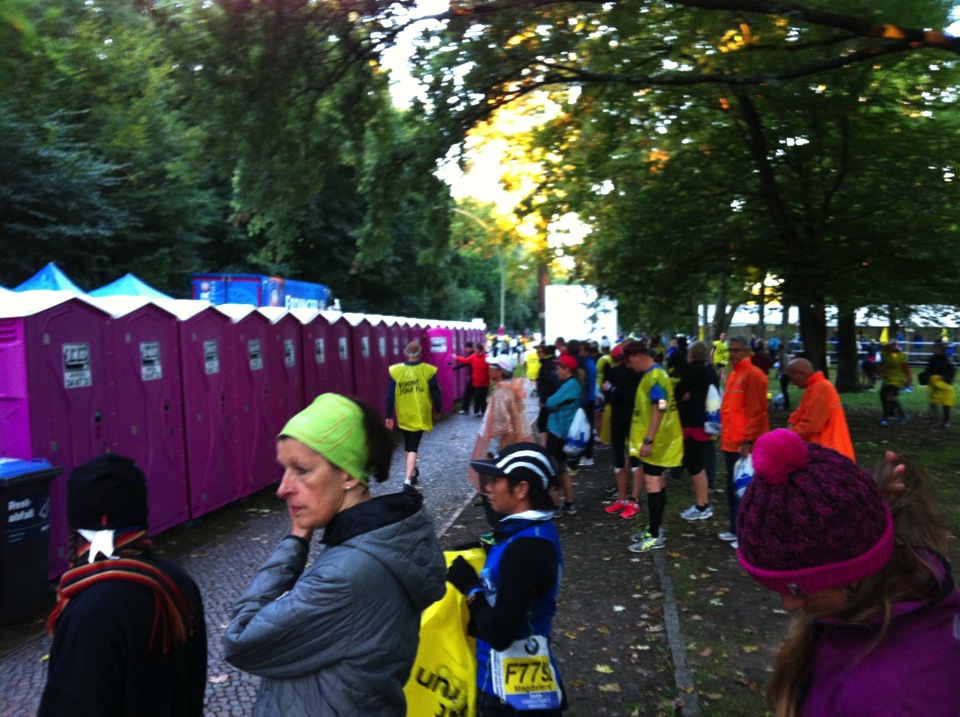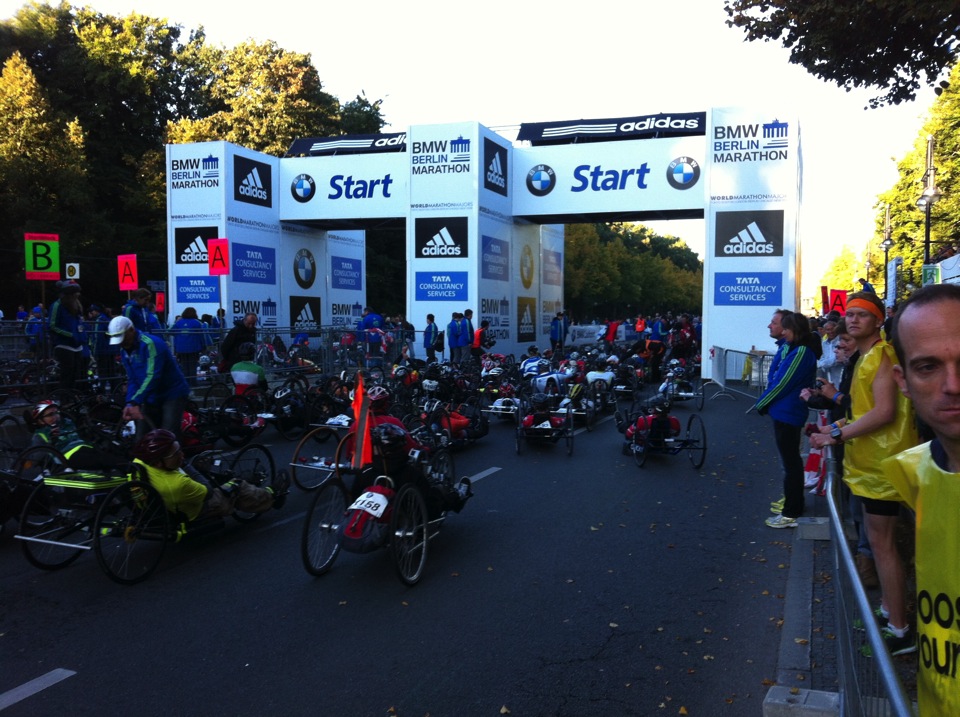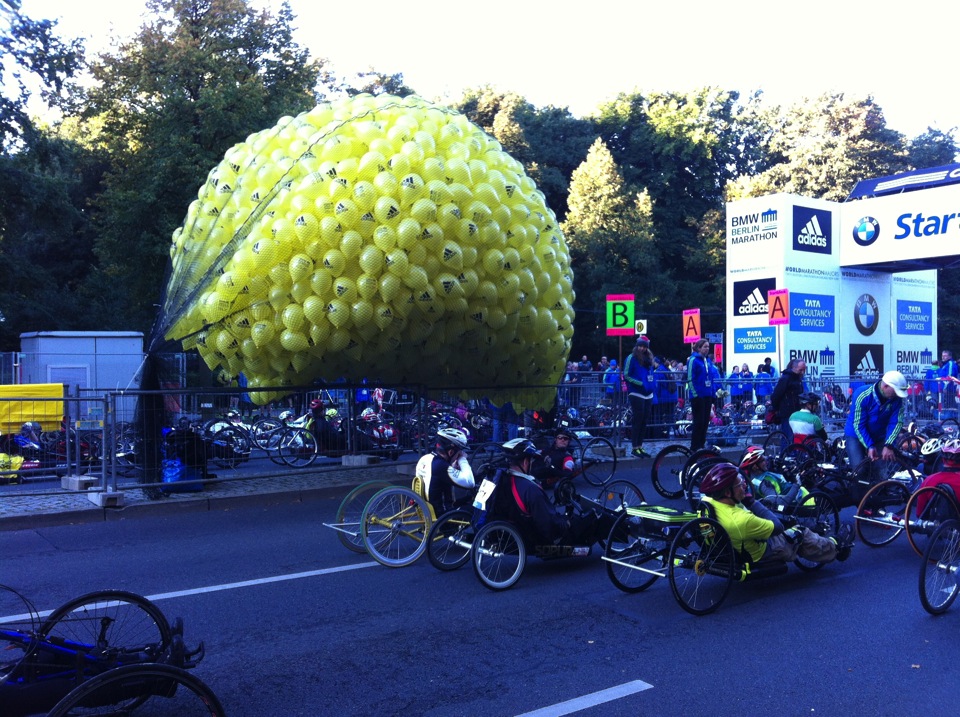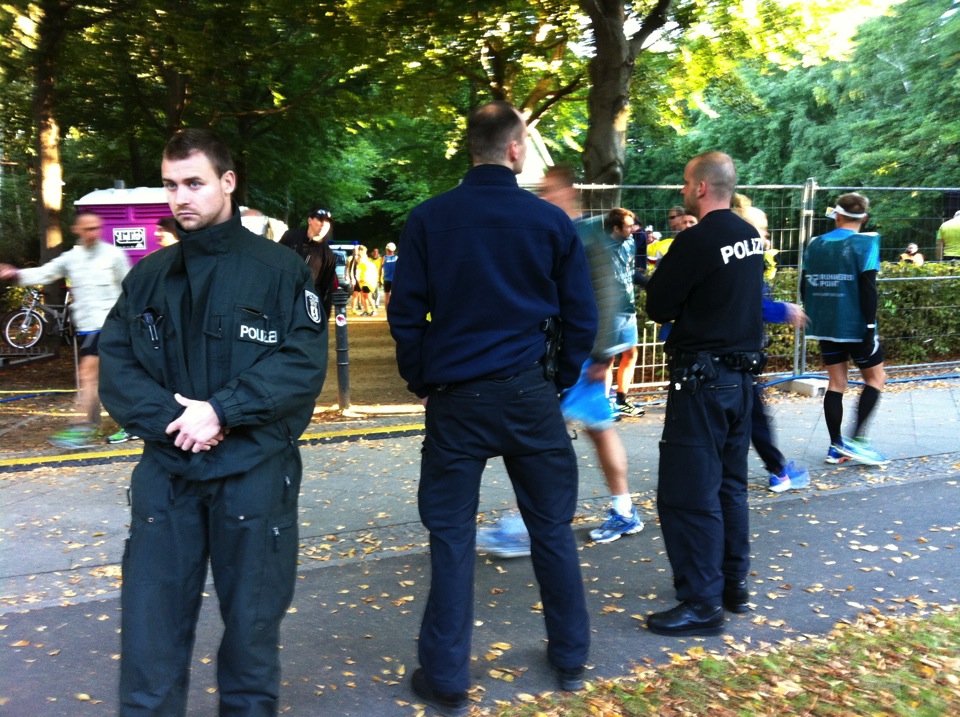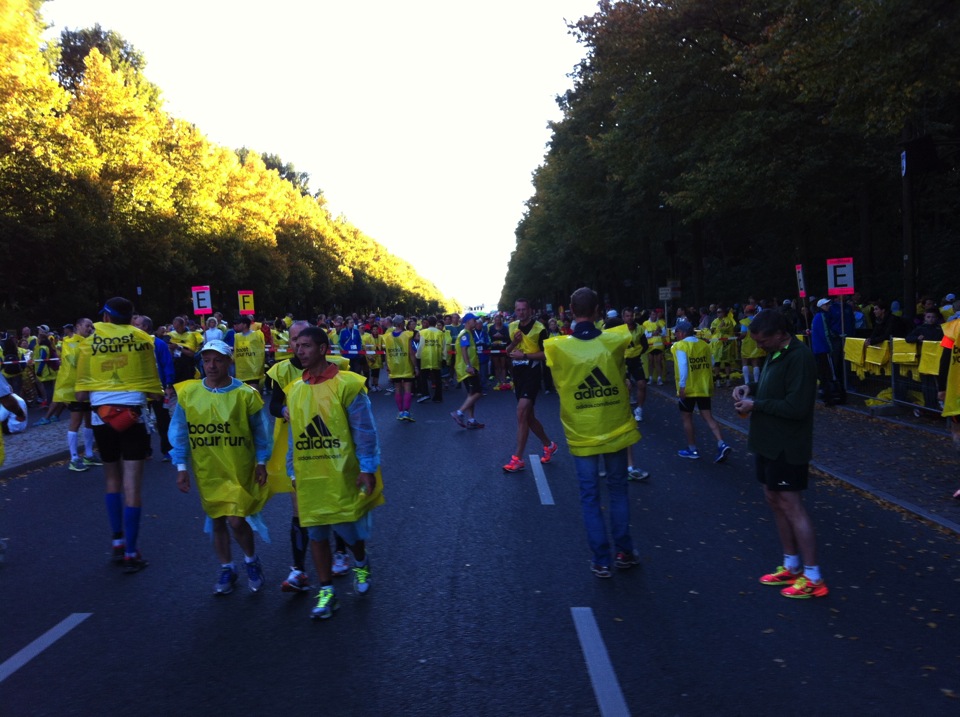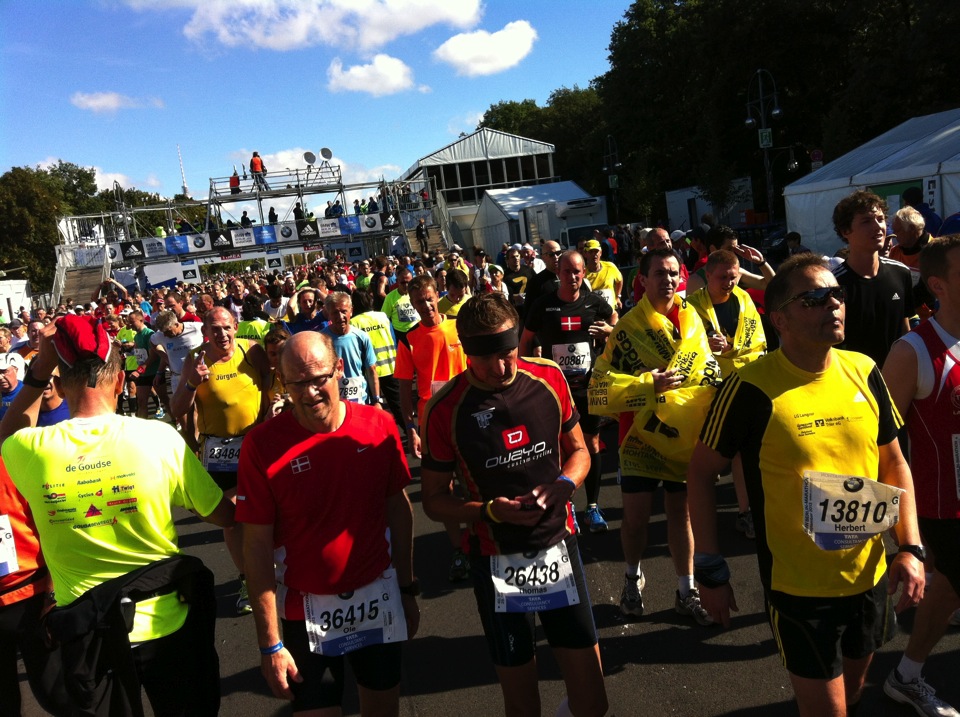 —–
Please note the most important changes for the 40th BMW BERLIN MARATHON
As in past years, we are very concerned about the safety of all marathon participants, volunteers, spectators, partners and employees of the marathon organization. We have initiated a few changes this year in collaboration with the responsible city offices of Berlin, and the Berlin police and fire departments.  These measures will be in place both at the BERLIN VITAL Expo from September 26-28, and at the start and finish of the marathon on Sunday, and will be strictly followed. We ask you to read through this information carefully so you are prepared for the new measures and you, as participants, can enjoy a smooth and exciting anniversary marathon event together will everyone else involved. We are depending upon your cooperation, and we are looking forward to an amazing marathon weekend with you.
New:
ID Control for Race Number Pick-up
Every participant must pick up his or her race materials IN PERSON with a valid ID (national ID, passport, or driver's license). Unfortunately, in the past, situations have arisen that made adequate medical care difficult because race numbers were sold or traded, and athletes could not be correctly identified in an emergency.  For the wellbeing and personal safety of every participant, from now on we will be strictly controlling the race number distribution. Personal data and any illnesses or medications being taken must be documented on the back of the race number, so that in the case of an emergency, the medical teams can provide rapid and safe assistance. It is NO LONGER possible to provide someone else with a letter of attorney to pick up your race materials for you!
New: 
A wristband for every participant
In order to guarantee the clear identification of each participant (see above), every runner will have a wristband placed on his or her wrist at the race number pick-up, which may NOT be removed until the race is finished.  In addition to the above measures, this will assist in preventing race numbers from being sold or traded.  The wristbands are made from Tyvek, a super-light material that cannot be torn (also used at many VIP events and other occasions). They are comfortable to wear, non-transferable (due to a strong glue) and tamper-proof.
New
Entrances to the Reichstag lawn/clothing drop-off
There will only be two entrances to the clothing drop-off: south of the Bundeskanzleramt (Federal Chancellery) at the sculpture park and at the Platz der Republik (Reichstag lawn).
You get there via Paul Löbe Alle (from the west), via Willy Brand Straße (from the north/railway station), via Konrad Adenauer Straße (from north-east) and via Scheidemannstraße (south of the Reichstag/from the east). See map"Wegeplan".
New:
Only the official clothing bags will be permitted at the start area
Only the official clothing bags can be brought into the start area—no suitcases, backpacks or any other kind of bags.  The clothing bag drop-off will begin at 6:30 am. 
Any kind of fireworks, weapons, glass bottles or any other dangerous or sharp objects will not be permitted into the restricted event area.
New:
Liquids
Every participant may bring a normal amount of drinks into the start area, for use both during and after the race (left at the clothing drop-off). Camelbaks are permitted.
New:
Family meeting point
The new family meeting point is now at the Platz der Republik. See map.
New: 
Start at 8:45 am
The start for the 40th BMW BERLIN MARATHON on September 29th is being moved ahead by 15 minutes.  The planned programming for the new television broadcast partner, ARD, is the reason behind this change.  ARD will be reporting live from 8:20 am to 11:30 am, and then rbb will take over and continue until 1:30 pm. Eurosport will broadcast live from 8.40 a.m. until 11.30 a.m.
進場路線: 都要從 Potsdamer platz 走過去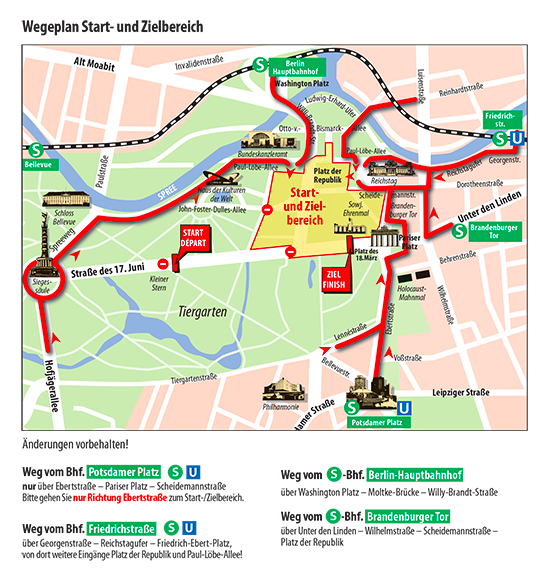 因為回去 hotel 的路被擋住了(紅色叉叉) , 所以繞了一大圈(綠色是我繞路 path), 從起跑點附近才能穿越跑道