netca , dbca
Connect as SYSTEM.
CREATE USER username IDENTIFIED BY apassword;
GRANT CONNECT TO username;
GRANT SELECT [, INSERT] [, UPDATE] [, DELETE] on schema.table TO username;
virtualbox 加一個 partition 12G mount point /u01
eth0 跑掉了
vi /etc/sysconfig/network-scripts/ifcfg-eth0
把 HWADDR 換成目前的 mac address
The following example contains the configuration for a DHCP adapter.
# cat /etc/sysconfig/network-scripts/ifcfg-eth0
DEVICE="eth0"
NM_CONTROLLED="yes"
ONBOOT=yes
TYPE=Ethernet
BOOTPROTO=dhcp
DEFROUTE=yes
IPV4_FAILURE_FATAL=yes
IPV6INIT=no
NAME="System eth0"
UUID=5fb06bd0-0bb0-7ffb-45f1-d6edd65f3e03
HWADDR=52:54:00:91:6A:B3
PEERDNS=yes
PEERROUTES=yes
#
The following example is for a static IP address.
# cat /etc/sysconfig/network-scripts/ifcfg-eth0
DEVICE=eth0
NM_CONTROLLED=yes
ONBOOT=yes
TYPE=Ethernet


BOOTPROTO=none


DEFROUTE=yes
IPV4_FAILURE_FATAL=yes
IPV6INIT=no
NAME="System eth0"
UUID=5fb06bd0-0bb0-7ffb-45f1-d6edd65f3e03


HWADDR=52:54:00:91:6a:b3


PEERROUTES=yes


IPADDR=192.168.122.89 NETMASK=255.255.255.0 GATEWAY=192.168.122.1


DNS1=192.168.122.1
USERCTL=no
#

 

 
修改 hostname :
vi 
/etc/sysconfig/network
REF: http://oracle-base.com/articles/11g/oracle-db-11gr2-installation-on-oracle-linux-6.php
關掉 iptables
service iptables stop
從開機 service 移除
chkconfig iptables off
設定 .bash_profile
// ————————— vi .bash_profile
# export LANG="en_US.UTF-8″
# Oracle Settings
export TMP=/tmp export TMPDIR=$TMP # export ORACLE_HOSTNAME=xora.monster.tw export ORACLE_BASE=/u01/app/oracle export ORACLE_HOME=$ORACLE_BASE/product/11.2.0/db_1 export ORACLE_SID=orcl export LD_LIBRARY_PATH=$ORACLE_HOME/lib:/lib:/usr/lib export CLASSPATH=$ORACLE_HOME/jlib:$ORACLE_HOME/rdbms/jlib export PATH=/usr/sbin:$ORACLE_HOME/bin:$PATH #
cat /etc/hosts
127.0.0.1   localhost
192.168.1.104   xora.monster.tw xora


主機名稱也要一樣
hostname xora.monster.tw
Oracle Linux 有個 preinstall 套件
yum install oracle-rdbms-server-11gR2-preinstall
安裝必要套件
yum install binutils-2*x86_64* glibc-2*x86_64* glibc-2*i686* compat-libstdc++-33*x86_64* glibc-common-2*x86_64* glibc-devel-2*x86_64* glibc-devel-2*i686* glibc-headers-2*x86_64* elfutils-libelf-0*x86_64* elfutils-libelf-devel-0*x86_64* gcc-4*x86_64* gcc-c++-4*x86_64* ksh-*x86_64* libaio-0*x86_64* libaio-devel-0*x86_64* libaio-0*i686* libaio-devel-0*i686* libgcc-4*x86_64* libgcc-4*i686* libstdc++-4*x86_64* libstdc++-4*i686* libstdc++-devel-4*x86_64* make-3.81*x86_64* numactl-devel-2*x86_64* sysstat-9*x86_64* compat-libstdc++-33*i686* compat-libcap*
yum update
/etc/sysctl.conf
fs.suid_dumpable = 1
fs.aio-max-nr = 1048576
fs.file-max = 6815744
kernel.shmall = 2097152
kernel.shmmax = 536870912
kernel.shmmni = 4096
# semaphores: semmsl, semmns, semopm, semmni
kernel.sem = 250 32000 100 128
net.ipv4.ip_local_port_range = 9000 65500
net.core.rmem_default=262144
net.core.rmem_max=4194304
net.core.wmem_default=262144
net.core.wmem_max=1048586

/etc/security/limits.conf
oracle              soft    nproc   16384
oracle              hard    nproc   16384
oracle              soft    nofile  4096
oracle              hard    nofile  65536
oracle              soft    stack   10240

 
執行安裝指令:
./runInstaller -ignoreSysPrereqs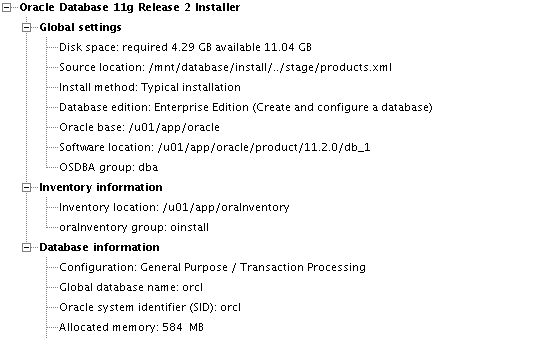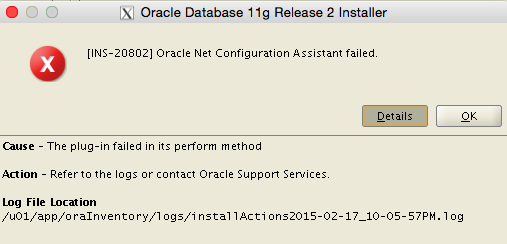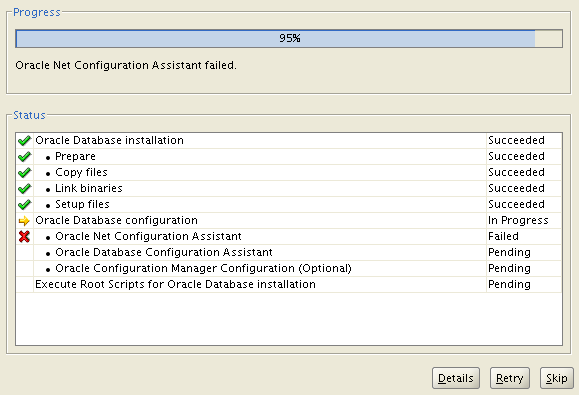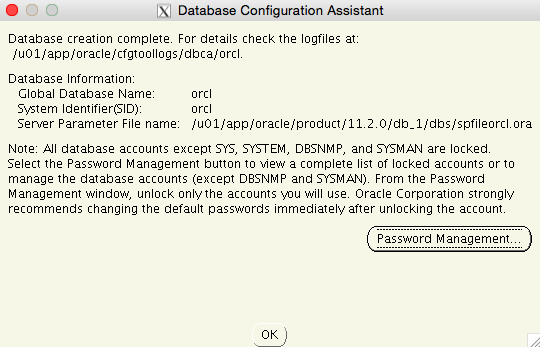 /u01/app/oracle/product/11.2.0/db_1/network/admin/tnsnames.ora

lsnrctl start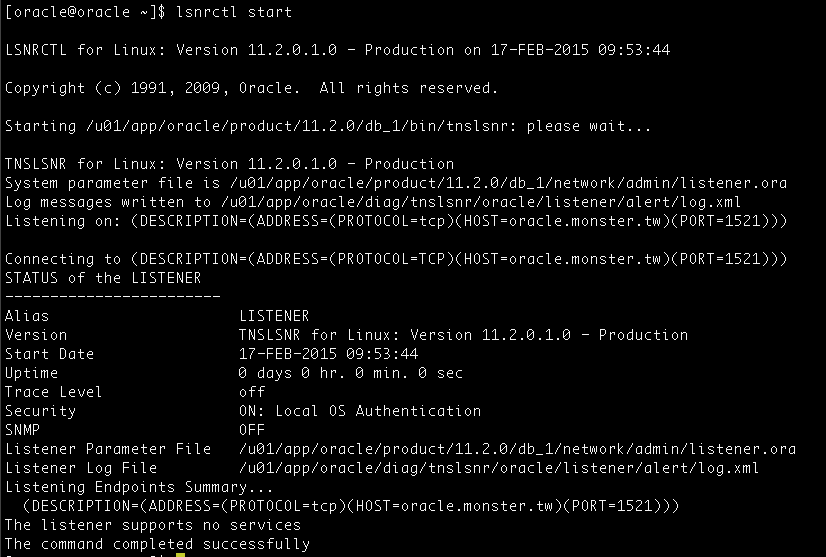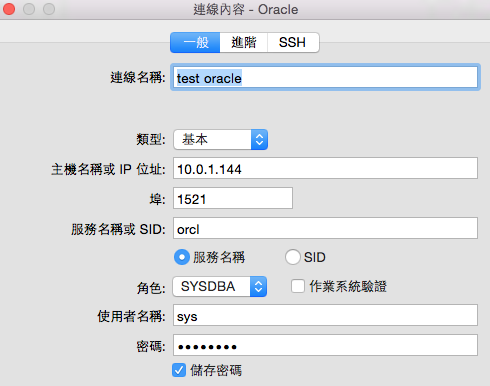 LISTENER 開了 , 但是 database 還沒 startup 的 error msg: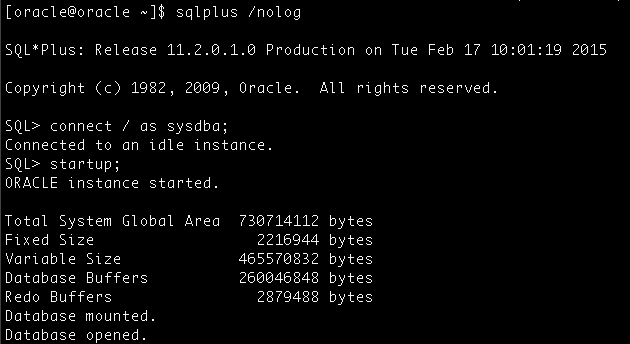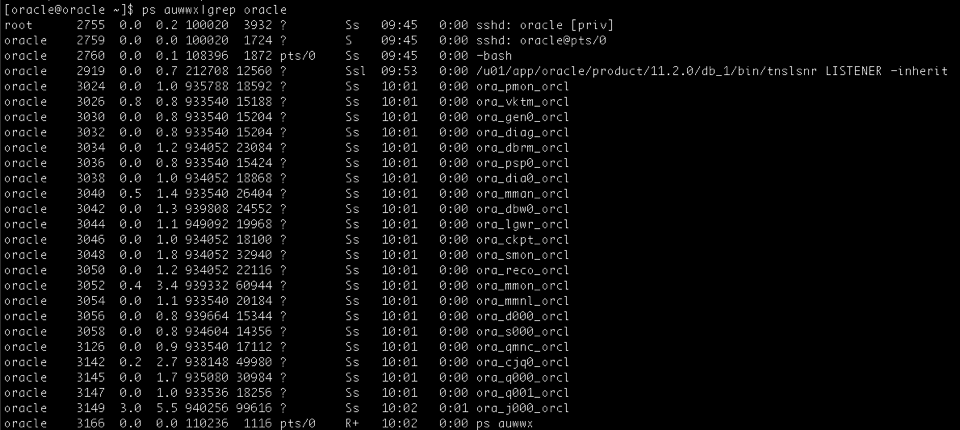 TEST SCHEMA:
create table tbl_info_daily
(
PK number(20),
XDATE DATE,
XHOUR NUMBER(2) default 0,
TAG1 VARCHAR2(100),
TAG2 VARCHAR2(40),
VAL NUMBER(10) default 0
)
;

create index tbl_info_daily_XDATE on tbl_info_daily (XDATE)
;

————————-
設定 IP address :
rm /etc/udev/rules.d/70-persistent-net.rules
reboot
/etc/sysconfig/network-scripts/ifcfg-eth0
DEVICE=eth0
TYPE=Ethernet
ONBOOT=yes
NM_CONTROLLED=yes
BOOTPROTO=none
# BOOTPROTO=dhcp
DNS1=168.95.1.1
DOMAIN=monster.tw
DEFROUTE=yes
IPV4_FAILURE_FATAL=yes
IPV6INIT=no
NAME="System eth0"
HWADDR=08:00:27:53:BB:E2
UUID=b2ef339f-b2db-4c4f-927d-8faf062ace80
IPADDR=10.10.10.22
NETMASK=255.255.254.0
GATEWAY=10.10.10.254
DNS1=168.95.1.1

UUID :
# uuidgen eth0
cb2bcc03-d590-4ae4-8bb2-4f8a41779de3
—